Why Should You Do Yoga
We all make choices.
We are all faced with so many choices in a day.
We can go out to eat, or make lunch, call in sick for work (even if we're not sick), and so many more.
Why not make the choice to do yoga? Even if it's only for ten minutes in the morning before you go to work.
Hmm.. That's not too bad right? Just a little bit of yoga in the day – but why?
Let's go over some reasons why you should do yoga.
---
Health Benefits of Yoga
There are so many great health benefits you get from a yoga practice. I will break it down into two categories – mental and physical.
Physical Health Benefits:
Flexibility – When you regularly practice yoga you are able to move your body and stretch your muscles in ways that you wouldn't be able to if you only worked out. Yoga is a practice of constant stretching and it's a continual push to see how you can challenge yourself.
Strength – Yoga builds and requires a lot of core muscles to hold poses. I don't really recall ever feeling sore after a class but after time you certainly notice a big difference in strength after continuously doing yoga.
Stability – This ties really close with strength. You really learn focus and stability with yoga. Especially the standing poses – which are my definite favourite. You start to notice your balance is better but my favourite it your posture gets a lot better.
Mental Health Benefits: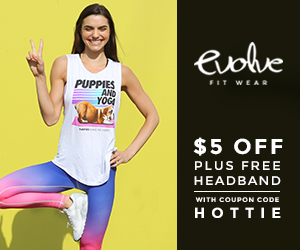 Awareness – This really comes with any physical practice. You get to focus inward and whether you are doing HIT workouts, yoga, karate or anything, you are able to reflect inwards. When you practice yoga you try to have a very clear mind in the process but thoughts come up or you are able to recognize what's happening with your body. It's an awareness of yourself and learning to trust your body.
Peacefulness – The absolute best feeling in the entire world is walking out of a yoga class. Everything is so clear, your mind is alert and your body is strong. Unless it's hot yoga, you rarely feel tired after a class. Just very rested and happy.
Relaxed – All three of these terms tie together so well. Instead of feeling tired and that you need to carbo load after your yoga workout you feel relaxed and peaceful.
Do You, Do Yoga at Home
If you are still new or insecure about joining a group class you have so much opportunity to do yoga at home as well.
I have created a post already – How to Learn Yoga at Home. Check it out if you have any questions!
Yoga at home is great. You are all alone and can just follow the sequence at your pace. You can't really push pause on a yoga instructor.
Being a loner myself, I do really enjoy that factor.
On the other side, I think it is really important to attend at least a few classes in person. The reason for this is that you have a trained professional telling you whether or not you are doing the pose right!
Happy Mind Happy Life
Everyone's is one of their own quest for happiness.
Everyone experiences things differently.
I firmly believe in a happy mind happy life. Once you open yourself up to happiness and do things that make you happy it comes back tenfold. There is nothing better than that pure feeling of joy.
Yoga has done that for me. It has helped me balance my feelings and I have even gone to yoga on hangover. It's there when you need it and it has helped me work out numerous personal problems through a half hour sequence.
I like being happy and I like doing yoga. Side note, I also really enjoy showing off crazy yoga poses I have learned and mastered.
---
Whether you are male or female, young or old, yoga is for everybody. I hope I have explained to you why it's so good for you and your body.
If you are new to yoga please refer to my posts on 5 Things You Should Know About Yoga and Yoga Poses for Beginners.
I really encourage you to try yoga. You will understand why I am so passionate about it when you try.
I will say for the last time – it's so great for you and your body.
Please leave me a comment with any questions you may have or success stories on your yoga journey!
Cheers,
Kahlua
kgordin@thealldayyoga.com
Please follow and like us: