Stand UP Paddleboard Yoga
Have you ever heard of Stand Up Paddle Board Yoga? It takes Yoga and Stand Up Paddleboarding and mushes them into one sport.
I have seen one lady at the lake I go to all the time and she SUP's – Excluding the yoga I think, I haven't asked – but she is jacked. She's a grandma and is one of the most ripped ladies I have seen.
Paddleboarding really requires a lot muscles and focus. When it first came out, you know me being skeptical, I thought it looked easy but I think the 'me' in the back of my mind was like, 'Hey Kahlua, you're probably going to fall if you try that'.
So get this, I haven't even tried it yet. I really need to. Just to at least say I have done it.
In my defense the lake is super busy in the summer and it's a little dangerous because of all the boats.
Not buying it? Me either. That's a lame excuse to not try something new.
Regardless, let's get into what Stand Up Paddleboard Yoga is.
---
STAND UP PADDLEBOARDS
We'll start here.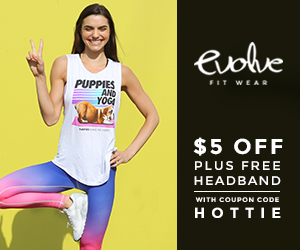 Stand Up Paddleboarding originated from surfing. What a surprise hey!
After surfing became popular it was becoming the trend to have a paddle as well.
In the past few years, where I am Stand Up Paddleboarding has blown up in popularity. I see it everywhere!
For those of you who don't know I live in a very tourist based town so providing tourists with activities during the summer months is basically the industry.
Stand Up Paddleboarding has really met the criteria of things to do. I think another reason why people like it so much is because you can have a couple pops on the water without worrying about drinking and driving a boat which is not legal.
Stand Up Paddleboarding follows a very basic concept. It's like canoeing or kayaking but instead of sitting your standing. It's so great for your balance and for your core.. Yes please!
All you need is a board, maybe some water / beer and sunscreen. I think because it is one board, people want to stand on it like they are surfing or snowboard or skateboarding with a dominant foot in the front. This is not the case and you will likely fall if you try to do so.
You want to be standing on the board like you are on skis, feet hip distance apart and facing forward. Does that sound like mountain pose to anyone else? Eh eh.
That's really it as far as stance goes, then you just take your paddle and skim across the lake.
I see a lot of people doing it and I haven't seen one bail yet, even with all the waves created by boats.
SUP YOGA BOARD
I have done some Amazon research on what are the best SUP Yoga Paddleboards. My top favourite has 831 reviews and only 4% have rated the board on a 1-3 basis. All the other ones are 4+ stars.
Here is a photo of the board and everything you get with it.
*Check it out on Amazon.com by clicking the photo or the link provided 'here'.
Stand Up Paddleboard Yoga
So, take SUP'ing that involves core strength, stability and upper body strength.
Take yoga that involves balance, deep stretches and breathing.
WHAT DO YOU GET?
A full body workout.
Your entire body and brain are incorporated in this wonderful practice.
There are so many additional wonderful features you get too!
-It's way more challenging than regular yoga. Say you are really into your practice and are looking for a different edge or something to add more of a challenge. Look no further! Another option is AcroYoga.
-You are able to really hone in on your practice and poses. As you are no longer on stable ground your board will tell you if you are leaning too much on one side. It is a great way to really refine and balance out each pose because if you are not level on all grounding points then your board will lean to that side and you may even be going for a swim! (which is also a good workout but not the point!)
-Imagine it's six am (aside from it being 6 am) the lake is calm, it's starting to get warm out but not sweaty and no one has really started driving or waking up. You take out your paddleboard and flow through a vinyasa sequence. How much more relaxing can that get?
-You get to try something new! I am all for adventure and experiencing new things and this really hits a top list of something fun and new.
I just love the combination of yoga (which I already love) and taking it to the next level by adding in more balance and water.
It reminds me in a weird way of when we were kids and we would play the floor is lava game. You can go on anything but you can't touch the floor. It's kind of the same for SUP Yoga in that you want to try your absolute hardest to not touch the 'lava'. I'm sure it happens anyways and I imagine it's not the end of the world. Honestly, on a really hot day I might even intentionally fall into the water to get a quick cool down!
---
---
I want to thank you very much for taking the time to read about Stand Up PaddleBoard Yoga.
Please let me know if you have done it and what your tricks were for staying on the board!
Or leave me a comment with your thoughts and questions!
Have a great day!
Kahlua
kgordin@thealldayyoga.com
Please follow and like us: