Balance Yoga Poses – The Top 5
Hi Everyone! Hope this day is treating you well.
I want to discuss the Top 5 Balance Yoga Poses. Balance poses are my absolute favourite. I love the challenge presented when you are trying to do a balance pose and the feeling of mastering the pose afterwards.
I will discuss the top 5 below – or maybe they are my 5 favourite. I hope you recognize the first two right away as they are very popular!
I will say this at the end of the article as well but please drop me a comment on what your favourite pose is or if you have any questions!
Enjoy!
---
Tree Pose
About this pose:
To get into this pose you are guided to root your standing foot and bring up your knee to a ninety degree angle from the ground. Your hands are on your hips. From there take your hand and guide your foot either above or below the knee but never on your knee. Once you find your balance there with your hands on your hips, float up your arms shown in the picture on the right. Some instructors like to add a side stretch by grabbing the same wrist from the planted foot and lean to the side of the raised foot.
The Challenges of this pose:
Movement! Once you get your foot planted, raising your arms can prove to be a struggle if you are not focused on an object that is not moving. And of course, trying to balance but I will only touch on that one in this pose.
Why I like this pose:
I like tree pose because for the most part is it done in every class. It's a great way to get started with balancing poses and it is one of the easier ones to master.

Dancer's Pose
About this pose:
We love dancers pose. It gives you such a great stretch throughout your body and you are able to really push yourself. Again, find your grounding foot and raise the opposite arm. Bend the same leg back that the arm is raised and windmill the arm back to grab either the toes or inside of your foot. Before leaning into the pose try to explore the back bend you get from just grabbing your foot. Then you want to open up your chest, bend at the hips and use your other arm as support or a stabilizer for the pose.
The Challenges of this pose:
The biggest challenge in this pose is keeping the arm to foot connection with a nice bend and moving into bending at the waist while keeping your balance. There are so many great yogi's who can make dancers pose look awesome! It is a more intermediate pose as far as standing poses go.
Why I like this pose:
I love this pose because of the back bend stretch I get out of it and the stretch throughout the legs. This pose is one that works a lot of your body and feels really good to do so.
Warrior 3
About this pose:
Warrior three is a lot more challenging than it looks. Usually to get into this pose you are in Warrior 2 and transition. When you are in warrior 2 (described in another post you can find here) the instructor will ask you to put your arms down by your side, look down and float your back leg up. Once you are able to stabilize yourself then you can float the hands out in front.
The Challenges of this pose:
When your instructor asks you to 'float' your leg. I have yet to master getting into this pose gracefully. For me, I find this to be one of the most challenging poses I face. There is a lot that has happened before to get there so I find I am not really in a clear mind getting into the pose as opposed to be standing in mountain pose and then starting to get into it. It is also hard to find the balance between the upper half of your body and your back leg.
Why I like this pose:
I like this pose for the challenge. Like I have just noted, I have not been able to do it gracefully, but when I get there it's a great sense of accomplishment. It's nice too because after this pose I find that you end up in a standing spiltz.
Eagle Pose
About this pose:
This is the pose to really twist up your body. There are so many things to concentrate on here. You have your arms twisted, your legs twisted and your on one leg.
You start out in this pose by wrapping one arm underneath the other. Then with both feet on the ground, sit back into chair position. Once 'seated' wrap the opposite leg of the arm that went under around the other leg. Sorry that was a lot of words & hopefully it made sense. You will then be asked to sink lower if you can. Be sure to remember to keep your back straight and your elbows up.
The Challenges of this pose:
Well, aside from everything that is going on to your body the hardest part about this pose is trying to concentrate and look beyond your arms that are crossed right in your face. It is important to do so because for standing poses you need to be focused on an object that is not moving which can prove to be difficult with parts of your body in front of your eyes that do move.
Why I like this pose:
I like this pose because of all the things that are happening to your body at once. It is really hard to keep your concentration but once you are in that 'funk' of how your body is, it is really nice to just be in that state.
Crow Pose
About this pose:
This one is the opposite of what we have been talking about. You get two limbs on the ground for this one too!
To get into this pose you are instructed to start in a yogi squat. Yogi squat is when you are in a very low squat position – with your bum almost touching the ground, feet slightly angled out and your hands in prayer with your elbows on the inside of your knees gently pushing them out. From there open up your hands and plant them in front of you shoulder width apart. Test out the post by leaning forward, trying to keep your knees & elbows connected (like they were in the squat) and just lifting one foot off of the ground. Maybe try lifting the other foot off of the ground until you are able to get into the pose.
The Challenges of this pose:
The biggest challenge of this pose, which is all mental, is thinking 'crap, what if I fall on my face'. Also, – the best thing to do if you're starting to fall forward is roll into it. It isn't very graceful but does help to not fall on your face.
Why I like this pose:
I like this pose because it isolates the arm strength and I can focus easily on being solid in the pose. I find this pose easier to get into as well.
---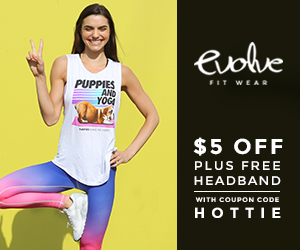 I would like to say thank you for taking the time to learn about balance yoga poses. As I said at the beginning, please feel free to leave me a comment with your favourite balance pose, or if you have any questions!
Thanks again,
Cheers,
Kahlua
kgordin@thealldayyoga.com
Please follow and like us: